Learn more and request your appointment below!
We are proud to offer a wide range of dental services, including cosmetic dentistry, Invisalign, dental implants and wisdom tooth extractions.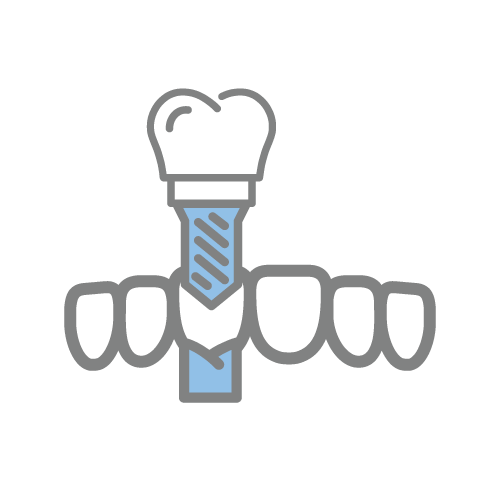 Dental Implants
Dental implants are the closest alternative to real, healthy teeth one can seek. They look natural, feel secure and stable and are permanently placed in the gum.
Teeth Whitening
With a few simple steps, a patient can revive the natural colour in their teeth or enhance the whiteness of their teeth to the best of their liking.
Bridges
If you're missing one or more teeth or have a gap in between teeth, a dental bridge may be the solution for you!
Hygiene & Exams
Regular six-month exams allow us to evaluate your dental health, catch problems before they develop, and give you advice. During the exam, we check for decay, clean your teeth, take x-rays, and identify any issues.
Veneers
Whether you want a smile makeover or have stained, cracked, or chipped teeth, you'll very likely be in need of either veneers, crowns, or a combination of the two.
Invisalign
Everyone wants to have straight teeth, but no one wants metal bands and wires on their mouth. Invisalign is a clear alternative to braces that both dentists and orthodontists use.
Dentures
Dentures are replacements for missing teeth that can be taken out and put back into your mouth. Although dentures may take some getting used to, modern dentistry provides a natural looking and comfortable alternative to the loss of teeth.
Root Canals
Do you have specific teeth that hurt? You may have a cavity that has spread to your tooth's nerve, causing an infection. If you have 1 or more teeth that are sensitive and in pain, please contact us so we can do an exam and x-rays to diagnose why you are in pain.
Crowns
Also known as a cap, a crown is a custom-made artificial restoration that permanently covers your tooth. They are often made of porcelain, porcelain fused to metal, or full gold.
Bonding
Dental bonding is done by applying a tooth-colored material to your teeth in order to make minor repairs. It's one of the most cost effective ways to enhance your smile!
Night Guards
Custom night guards protect from excessive night-time grinding and is a proactive approach to keeping your teeth health while reducing the risk of needing more expensive dental procedures in the future.
Periodontics
Periodontics is the branch of dentistry specializing in areas of the mouth that surround and support the teeth. These areas include your gums, alveolar bone, cementum and your periodontal ligament.
Treat you the same way we like to be treated ourselves
Educate ourselves by taking more continuing education credits than required
Invest in the best technology and supplies
Challenge ourselves and our team to be the best
We accept most dental insurance including MassHealth. We are pleased to direct billand work directly with your insurance provider. Please contact our friendly staff in Mattapan to learn more about your dental insurance and billing options.
Mattapan Square Family Dental offers a wide variety of dental services with an emphasis on patient comfort and care offered in a safe, warm and welcoming environment for children and adults alike. Our clean, modern office allows our experienced, and friendly team to provide our patients with the utmost in dental health.
Flexible Financing Options
---
For your convenience, we accept most dental insurance plans. Our qualified financial team will do all it can to make sure that expense does not prevent you from receiving the quality care you need and desire. We have developed different financial options to help you facilitate your goals.
Our Mattapan Office is conveniently located in the heart of Mattapan Square. We are located near the train station and bus stops. There is street parking available as well as free parking onsite. We are a handicap accessable office.
We are so thankful to have such amazing patients who have taken the time to share their experiences on Google, Facebook, and other online sources.
My daughter is 2 and was extremely scared and inconsolable at my previous dentist. At this office the dentist managed to make her calm and comfortable. I am happy to have found this place since I am taking her dental health very seriously
- Marie E.
Uninsured, but they still made time for me. the receptionist remembered me and was pleasant in conversation.
- John K.
Call us today to see how we can help you smile.
---
1634 Blue Hill Avenue, Mattapan, MA 02126
Office Hours (please contact us to confirm)
---
Mon: 10:00 AM - 6:00 PM
Tues: 10:00 AM - 6:00 PM
Wed: 10:00 AM - 6:00 PM
Thurs: 9:00 AM - 6:00 PM
Fri: 10:00 AM - 6:00 PM
Sat: 10:00 AM - 6:00 PM
Sun: Closed
© 2022 Mattapan Square Family Dental